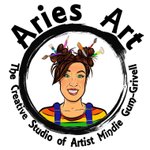 AriesArtNW.com
Mindie Gum-Grivell has always been an artist to some degree, creating for as long as she can remember. However, it wasn't until 2010 when she first tried her hand at paint on canvas and when she realized this was something she wanted to pursue more seriously. Over the years her creative focus has been directed towards colorful scenery, conceptual portraiture, pin-up's, and character illustrations while practicing with a range of mediums. From traditional to digital, her unique use of colors, style and fictional-like subjects are consistent, making her well received among an eclectic, creative and imaginative audience. Originally from SW Washington State, Mindie currently resides in Central Indiana with her spouse and cat. She's almost always hunched over some sort of craft project or out showing her creations, but she also enjoys watching cartoons, reading and traveling. All things that also inspire her creatively. ​ Mindie has been showing her artwork in galleries, art exhibits and art fairs in and around Indianapolis, IN since moving there in 2014. She's also had the opportunity to exhibit her artwork in other major cities, including Chicago, IL. For more from Mindie visit her website, http://www.ariesartnw.com/ AriesArtNW.com joined Society6 on November 12, 2014
More
Mindie Gum-Grivell has always been an artist to some degree, creating for as long as she can remember. However, it wasn't until 2010 when she first tried her hand at paint on canvas and when she realized this was something she wanted to pursue more seriously. Over the years her creative focus has been directed towards colorful scenery, conceptual portraiture, pin-up's, and character illustrations while practicing with a range of mediums. From traditional to digital, her unique use of colors, style and fictional-like subjects are consistent, making her well received among an eclectic, creative and imaginative audience.
Originally from SW Washington State, Mindie currently resides in Central Indiana with her spouse and cat. She's almost always hunched over some sort of craft project or out showing her creations, but she also enjoys watching cartoons, reading and traveling. All things that also inspire her creatively. ​ Mindie has been showing her artwork in galleries, art exhibits and art fairs in and around Indianapolis, IN since moving there in 2014. She's also had the opportunity to exhibit her artwork in other major cities, including Chicago, IL.
For more from Mindie visit her website, http://www.ariesartnw.com/
AriesArtNW.com joined Society6 on November 12, 2014.