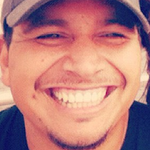 Armando Renteria
Artist: Armando Francisco Renteria Through his artwork he communicates his daily emotions and thoughts. His high empathic nature draws him towards stories and those stories find their way into his artwork. You can find him online on his website www.ArmandoArtist.com Stay up to date with his latest work on instagram. @armandoartist Armando Renteria joined Society6 on October 11, 2013
More
Artist: Armando Francisco Renteria
Through his artwork he communicates his daily emotions and thoughts. His high empathic nature draws him towards stories and those stories find their way into his artwork.
You can find him online on his website www.ArmandoArtist.com Stay up to date with his latest work on instagram. @armandoartist
Armando Renteria joined Society6 on October 11, 2013.
Framed Prints by Armando Renteria
130 results
Filter