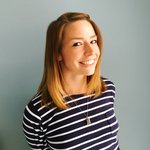 Arnold & Bird by Joanne Griffin
Hi, I'm Joanne Griffin, a passionate product innovator who started Arnold & Bird to create inspiring designs just for you. I spend my days designing unique surface pattern designs and illustrations. You'll find me driven by smoothie bowls, smiling and encouraging others. All while listening to podcasts to keep me company. Arnold & Bird by Joanne Griffin joined Society6 on September 6, 2017
More
Hi, I'm Joanne Griffin, a passionate product innovator who started Arnold & Bird to create inspiring designs just for you.
I spend my days designing unique surface pattern designs and illustrations.
You'll find me driven by smoothie bowls, smiling and encouraging others. All while listening to podcasts to keep me company.
Arnold & Bird by Joanne Griffin joined Society6 on September 6, 2017.
Arnold & Bird by Joanne Griffin's Store
325 results
Filter