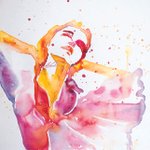 Maria Lvova
I study very seriously the impact of color on our psychological state. My canvas carry certain color messages. The influence of color on the psychological and emotional well-being is enormous.
The theme of harmonization of the emotional state is not new. The famous "Water Lilies" by Claude Monet in the Orangerie Museum in Paris were created in 1952, after the Second World War. Rodko makes us even more thrown into the colors. Our subconscious mind has unlimited possibilities. I feel that my color compositions can help find emotional comfort or answers to exciting questions. Canvas is no longer the main way for artist. I work on different media: a picture created on a canvas, silk or paper, further can be animated on computer. I really like this technique. It allows spectator to feel himself inside my picture. I am interested in the color state of society through color emotional reflection. My works often are Inspired by fashion. My mom was working all her life in fashion and design. She have influenced me a lot.
Artist's main objective is to harmonize the emotional state of the spectator and open the door in the world of subconscious.
Maria Lvova Artiste She lives and works in Geneva. Maria Lvova was born in Paris, France. She graduated V. Surikov Moscow State Academy Art Institute at Russian Academy of Arts, School of Theater Stage Decoration and Monumental Arts (Ecole de Trompe l'œil et de décor de théâtre) of Geneva. She started painting at N.I. Borovsky (Hon. Artist of RF) Workshop. Maria Lvova held personal Exhibitions in Geneva, Lausanne, Paris, Moscow, Buenos-Aires. Many of her works are in private collections in Europe and Russia.
She is a Member of the Russian Artists Union. Member of international Union of Artists.
Read more
Maria Lvova's Store
Filter