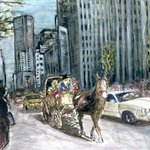 Art America - Fine Art Prints, Posters
Welcome to the Art America Online Gallery, offering a great collection of American and European paintings, drawings, illustrations, digital artworks, photographs, collages, cartoons, oil paintings, watercolors, landscape paintings, Wall Art, Pop Art, Fantasy Art, Surrealism, Graphic Artwork and other images for sale. All of these fine American artworks look great on the wall of your living room as a beautiful home decor, or in your office, in hotel lobbies, schools, hospitals and many other locations. Fine art prints are also good gift ideas for family and friends on all occasions ! Many artworks were published on Google, Facebook, Youtube, Twitter, Yahoo, Pinterest, Flickr, Craigslist, Stumbleupon, Ebay, Amazon, Zazzle, Cafepress and other online places. Looking for more art? - Here you find a great collection of more than 500 American artworks, for sale as fine art prints, posters, canvas prints, framed art, wall art and more: http://www.artprintsposter.com/ Art America - Fine Art Prints, Posters joined Society6 on March 3, 2016
More
Welcome to the Art America Online Gallery, offering a great collection of American and European paintings, drawings, illustrations, digital artworks, photographs, collages, cartoons, oil paintings, watercolors, landscape paintings, Wall Art, Pop Art, Fantasy Art, Surrealism, Graphic Artwork and other images for sale.
All of these fine American artworks look great on the wall of your living room as a beautiful home decor, or in your office, in hotel lobbies, schools, hospitals and many other locations. Fine art prints are also good gift ideas for family and friends on all occasions !
Many artworks were published on Google, Facebook, Youtube, Twitter, Yahoo, Pinterest, Flickr, Craigslist, Stumbleupon, Ebay, Amazon, Zazzle, Cafepress and other online places.
Looking for more art? - Here you find a great collection of more than 500 American artworks, for sale as fine art prints, posters, canvas prints, framed art, wall art and more: http://www.artprintsposter.com/
Art America - Fine Art Prints, Posters joined Society6 on March 3, 2016.