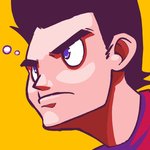 Art Blaster
I'm a freelance artist who enjoys illustrating pop culture characters (comics, videogames, movies). I draw in a comic book style usually, but I have wandered closer to painterly styles occasionally. Follow me on twitter @art_blaster Youtube at https://www.youtube.com/user/befarrar and my personal website www.brian-farrar.com Art Blaster joined Society6 on April 20, 2015
More
I'm a freelance artist who enjoys illustrating pop culture characters (comics, videogames, movies). I draw in a comic book style usually, but I have wandered closer to painterly styles occasionally.
Follow me on twitter @art_blaster Youtube at https://www.youtube.com/user/befarrar and my personal website www.brian-farrar.com
Art Blaster joined Society6 on April 20, 2015.
Art Blaster's Store
32 results
Filter