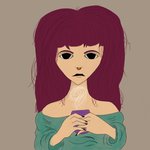 Art By Amber
Hello and welcome to my society6! I am a local artist from Maryland, born and raised, 23 years of age and currently in college pursuing my Bachelors in Graphic Design. I graduated with two AA's in Graphic Design and Digital Arts in 2015. I am your quirky average graphic designer that loves to draw every chance I get and let my ideas flow. Thank you for coming by and I hope you enjoy my artwork! My Website: http://artbyamberr.weebly.com/ Art By Amber joined Society6 on October 9, 2016
More
Hello and welcome to my society6! I am a local artist from Maryland, born and raised, 23 years of age and currently in college pursuing my Bachelors in Graphic Design. I graduated with two AA's in Graphic Design and Digital Arts in 2015.
I am your quirky average graphic designer that loves to draw every chance I get and let my ideas flow. Thank you for coming by and I hope you enjoy my artwork!
My Website: http://artbyamberr.weebly.com/
Art By Amber joined Society6 on October 9, 2016.