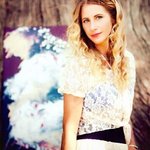 Kelly Bruemmer
Abstract Artist/Painter creating and exhibiting work in Austin, Texas. Mediums used: acrylic, mixed media on canvas. My style: original, abstract, fluid, flowing with dramatic tones, contrasting colors, embedded textures and swirling layers...finished pieces are the result of physical, emotional, intellectual and spiritual components fusing as one. My creative process: unabashedly intuitive, without calculated intent, free of the typical purpose, promotions and statements, but rich with emotional depth and the undercurrent of personal experiences, struggles and joys. Inspirations: hope, a stranger's smile, my angels, the ocean, grief, sunlight, the positive energy of the universe, travel, bourbon, a hug, my crazy & beautiful dog, experiencing someone for the first time, metaphors, rap music, my parents, running miles without stopping, fate, truth, my boys' laughter, nature, kindness, my intuition, and LOVE in all its purest forms. Kelly Bruemmer joined Society6 on July 15, 2016
More
Abstract Artist/Painter creating and exhibiting work in Austin, Texas.
Mediums used: acrylic, mixed media on canvas. My style: original, abstract, fluid, flowing with dramatic tones, contrasting colors, embedded textures and swirling layers...finished pieces are the result of physical, emotional, intellectual and spiritual components fusing as one.
My creative process: unabashedly intuitive, without calculated intent, free of the typical purpose, promotions and statements, but rich with emotional depth and the undercurrent of personal experiences, struggles and joys. Inspirations: hope, a stranger's smile, my angels, the ocean, grief, sunlight, the positive energy of the universe, travel, bourbon, a hug, my crazy & beautiful dog, experiencing someone for the first time, metaphors, rap music, my parents, running miles without stopping, fate, truth, my boys' laughter, nature, kindness, my intuition, and LOVE in all its purest forms.
Kelly Bruemmer joined Society6 on July 15, 2016.
Kelly Bruemmer's Store
38 results
Filter