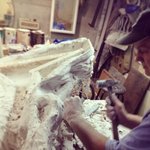 Art by Michaux
http://artbymichaux.com/ Richard Michaux was born and raised in Pittsburgh, Pennsylvania. His love for art developed as a child, when he was often caught transforming neighborhood walls into murals and using the interior of his parents' home as a canvas. He first formally studied art as a teen, focusing primarily on painting techniques and sketch-work. When urged by mentors to broaden his artistic horizons, he took up sculpting and lithography at the Portland School of Fine and Applied Art. He completed his schooling at the Pittsburgh Center for the Arts, where he learned the techniques of portrait sculpting from renowned artist Eugene Gittings. He has been named by the Pittsburgh Magazine as one of the region's up-and-coming artists and has been featured in galleries across the Greater Pittsburgh area. Richard's portfolio of work includes a wide array of media ranging from charcoal sketches and watercolors to wood carvings and bronze sculptures. Most recently, he has been using oil and acryllics to paint a series of landscapes on canvas. As his portfolio continues to expand in size and scope, artbymichaux.com will grow as well. Please check back frequently for updates. Richard now teaches weekend art classes for kids at Habitat for Humanity, Allegheny Valley. Art by Michaux joined Society6 on May 17, 2012
More
http://artbymichaux.com/
Richard Michaux was born and raised in Pittsburgh, Pennsylvania. His love for art developed as a child, when he was often caught transforming neighborhood walls into murals and using the interior of his parents' home as a canvas. He first formally studied art as a teen, focusing primarily on painting techniques and sketch-work. When urged by mentors to broaden his artistic horizons, he took up sculpting and lithography at the Portland School of Fine and Applied Art. He completed his schooling at the Pittsburgh Center for the Arts, where he learned the techniques of portrait sculpting from renowned artist Eugene Gittings. He has been named by the Pittsburgh Magazine as one of the region's up-and-coming artists and has been featured in galleries across the Greater Pittsburgh area.
Richard's portfolio of work includes a wide array of media ranging from charcoal sketches and watercolors to wood carvings and bronze sculptures. Most recently, he has been using oil and acryllics to paint a series of landscapes on canvas. As his portfolio continues to expand in size and scope, artbymichaux.com will grow as well. Please check back frequently for updates.
Richard now teaches weekend art classes for kids at Habitat for Humanity, Allegheny Valley.
Art by Michaux joined Society6 on May 17, 2012.