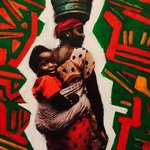 ArtByNaomie
Naomi Edmondson is a native New Yorker, who has always possessed a love for words and music. From memorizing monologues to doodling song lyrics on her jeans, she has always surrounded herself with the written word. She began to seriously hone her craft during her senior year of high school. She wasted no time in Sarah Lawrence, impressing the community with her work while studying studio art, literature and history. Her obsessive, word based drawings are attempts to capture her slippery thoughts on paper. For more work, please head to: www.artbynaomie.com ArtByNaomie joined Society6 on January 27, 2014
More
Naomi Edmondson is a native New Yorker, who has always possessed a love for words and music. From memorizing monologues to doodling song lyrics on her jeans, she has always surrounded herself with the written word. She began to seriously hone her craft during her senior year of high school. She wasted no time in Sarah Lawrence, impressing the community with her work while studying studio art, literature and history.
Her obsessive, word based drawings are attempts to capture her slippery thoughts on paper.
For more work, please head to: www.artbynaomie.com
ArtByNaomie joined Society6 on January 27, 2014.
ArtByNaomie's Store
21 results
Filter