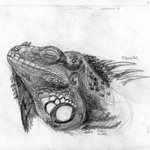 artbyolev
A bit about me: My name is Olev, from Tallinn, Estonia. 25 years old. I study religion and dabble in photography and drawing on the side a bit. I also do custom woodburning or charcoal/pencil portraits. Portraits of You, your loved ones, celebrities, pets or pretty much anything You wish. More of my art can be seen on facebook: www.facebook.com/artbyolev Like it! :) artbyolev joined Society6 on January 12, 2013
More
A bit about me: My name is Olev, from Tallinn, Estonia. 25 years old. I study religion and dabble in photography and drawing on the side a bit.
I also do custom woodburning or charcoal/pencil portraits. Portraits of You, your loved ones, celebrities, pets or pretty much anything You wish.
More of my art can be seen on facebook: www.facebook.com/artbyolev Like it! :)
artbyolev joined Society6 on January 12, 2013.