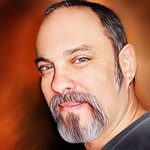 Art by Spano
Michael Spano of CyberArt Studios has been creating custom artwork and design for over 30 years. He can be commissioned to create the typical to the extreme. His Artwork is created by combining years of traditional art techniques with the ever-expanding capabilities of digital painting. Michael's artwork is sold for both commercial use and to private collectors. Please visit http://www.ArtbySpano.com to inquire about commissioning custom artwork of painted portraits, Animals, Erotica, Motorcycles and Extreme Art. Art by Spano joined Society6 on August 20, 2013
More
Michael Spano of CyberArt Studios has been creating custom artwork and design for over 30 years. He can be commissioned to create the typical to the extreme. His Artwork is created by combining years of traditional art techniques with the ever-expanding capabilities of digital painting.
Michael's artwork is sold for both commercial use and to private collectors.
Please visit http://www.ArtbySpano.com to inquire about commissioning custom artwork of painted portraits, Animals, Erotica, Motorcycles and Extreme Art.
Art by Spano joined Society6 on August 20, 2013.
Art by Spano's Store
80 results
Filter