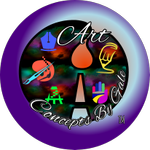 Art Concepts By Gale
Art is my passion and I love to make people smile. Positive, brightly colored artwork and detailed geometric line drawings are my specialties although I do like to experiment with different subject matter using various mediums including acrylic, gouache, ink, oil and repurposed items.
I enjoy spending time with family and friends. My favorite things to do are going to the beach and hiking in the mountains therefore most of my artwork is inspired by nature, the ocean, people and abstract views of the world.
Thank you for stopping by!
Read more