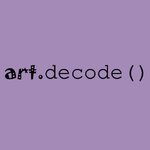 artdecode
Welcome, visitor! Please, browse to your heart's content and do not hesitate to contact me via https://www.facebook.com/decodeart to express your wishes regarding any of my designs, such as scale, colour or other alterations. Feel free to like and/or share anything you find interesting. Creatively Yours, Art Decoder artdecode joined Society6 on October 14, 2016
More
Welcome, visitor!
Please, browse to your heart's content and do not hesitate to contact me via https://www.facebook.com/decodeart to express your wishes regarding any of my designs, such as scale, colour or other alterations.
Feel free to like and/or share anything you find interesting.
Creatively Yours, Art Decoder
artdecode joined Society6 on October 14, 2016.