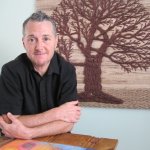 ArtDesigns by Jay Mora-Shihadeh
PAINTINGS. PASTELS. WATERCOLORS. Jay Mora-Shihadeh was born in Philadelphia where he attended The University of the Arts, receiving a BFA in Painting and Drawing. Jay's artwork has evolved from experimenting with representational to abstract expressionism. He employs bold color that is both direct and expressive. Physical, sometimes brutal uses of line shape and gesture are the hallmarks of his work.
The artwork he creates today leans toward the enigmatic. The work is emotional and somewhat ethereal in its exploration of color and form. He strives to grasp the unknown, the subconscious. As an artist, spontaneity and process is as important to him as the end result.
Currently he resides in Sarasota, FL where the sunny, colorful landscape imbues itself into his work. His art can be seen on Facebook, Instagram and his Artist website.
www.Facebook.com/jayartwork www.instagram.com/jaymora_art www.jaymora091665.wixsite.com/website
Read more
ArtDesigns by Jay Mora-Shihadeh's Store
49 results
Filter