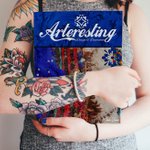 ARTERESTING Bazaar
-Behind any ART an Interesting Story-
ARTERESTING©️ offers you a collection of unique traditional artwork, which will make you change your concept of products and Decorating around your home, Artworks are inspired by Anthropologie, Bohemian, Traditional, Vintage, Rustic ... Styles, out Interesting Artwork, are designed with love and creativity by the young creative Designers. All you have to do is follow the admiration and follow - up and invite your friends to receive and get them all new. Please, we asking Buyers those bought a product with our designs to send us their photos of the items at home with e-mail, via our facebook page:
www.fb.com/arteresting
or by email:
arteresting.official@gmail.com
to participate in the lottery to win wonderful gifts for free.
ARTERESTING is a team of young creative designers and photographers who specialize in Digital Art & Decorating ( graphic design, 3D Modeling, decorating and designing household products, Furniture, Rugs, and Pillows ). The team was created by two friends, a girl from Germany and the other from France. They were inspired by the idea after visiting Morocco where they liked In the traditional Moroccan natural style, they joined two Moroccans and then a photographer from the United States. Now the team consists of eight members each one of them has a special talent, together for specific offences, designing and providing antiques to satisfy the fans and admirers, so my friend we only want you to help us with Follow and Share and Tag your friends on social media to reach more people and more fans to Motivate our team to create some new features and artwork.
ARTERESTING wish you a Lovely Day.
Society6 : https://society6.com/arteresting Society6 2 : https://society6.com/mr0frankenstein Liveheroes : https://liveheroes.com/en/brand/arteresting Redbubble : https://www.redbubble.com/people/arteresting
All Links: https://linktr.ee/arteresting.bazaar
Read more
Counter Stools by ARTERESTING Bazaar
107 results
Filter