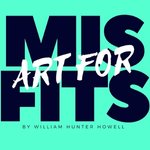 Art For Misfits
We don't think art should just stir the soul, we believe it should shake up the circus. Our first release is a collection of bold prints and fabulous facts designed to spark conversation and tempt controversy, the kind that rumbles right through dinner and deep into the night. Art For Misfits joined Society6 on September 17, 2016
More
We don't think art should just stir the soul, we believe it should shake up the circus.
Our first release is a collection of bold prints and fabulous facts designed to spark conversation and tempt controversy, the kind that rumbles right through dinner and deep into the night.
Art For Misfits joined Society6 on September 17, 2016.
Art For Misfits's Store
72 results
Filter