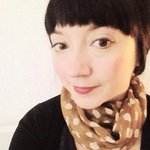 melinda santora
I am an artist, a painter, a daydreamer and creating art is my passion. Originally from Olympia Washington. I currently reside in the city of Portland Oregon. I have always been fascinated by different mythologies and archetypes that weave and spin throughout our everyday lives. Inspiration is found in dreams, waking life, memories and relationship to place. Often the work consists of whimsical moments and conceptual ideas that swirl around beauty, nature, love and play. Strong influence is related to patterns, cycles and symbols found within our unconscious world. melinda santora joined Society6 on July 30, 2016
More
I am an artist, a painter, a daydreamer and creating art is my passion.
Originally from Olympia Washington. I currently reside in the city of Portland Oregon. I have always been fascinated by different mythologies and archetypes that weave and spin throughout our everyday lives. Inspiration is found in dreams, waking life, memories and relationship to place. Often the work consists of whimsical moments and conceptual ideas that swirl around beauty, nature, love and play. Strong influence is related to patterns, cycles and symbols found within our unconscious world.
melinda santora joined Society6 on July 30, 2016.
melinda santora 's Store
14 results
Filter