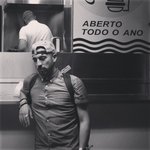 Aaron Van Lieu
"I'm California born and bred, so I feel that has a lot to do with my style. I was definitely influenced by what Northern California had to offer me and I took full advantage of it. Growing up, I was immediately attracted to being outdoors as much as possible and observing the motion and patterns of the native wildlife (including the people who lived around me). The interaction of humans and wildlife is something I always respected, and wanted for myself. When done right, I believe it to be one of the greatest harmonies life has to offer. I try to reflect that in a lot that I do." Aaron Van Lieu is a self-taught artist from San Francisco, California. Taking no formal classes in illustration or painting, all of his work is from an ernest and honest love for his craft. Aaron Van Lieu joined Society6 on November 8, 2013
More
"I'm California born and bred, so I feel that has a lot to do with my style. I was definitely influenced by what Northern California had to offer me and I took full advantage of it. Growing up, I was immediately attracted to being outdoors as much as possible and observing the motion and patterns of the native wildlife (including the people who lived around me). The interaction of humans and wildlife is something I always respected, and wanted for myself. When done right, I believe it to be one of the greatest harmonies life has to offer. I try to reflect that in a lot that I do."
Aaron Van Lieu is a self-taught artist from San Francisco, California. Taking no formal classes in illustration or painting, all of his work is from an ernest and honest love for his craft.
Aaron Van Lieu joined Society6 on November 8, 2013.
Aaron Van Lieu's Store
48 results
Filter