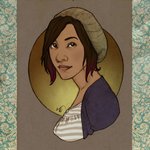 artgyrl
I won a coloring contest when I was four. I've been drawing ever since. In December 0f 2006, I earned a BFA in Graphic Design with a minor in Photography from the University of South Alabama. I drink a lot of tea. http://artgyrl.com http://facebook.com/artgyrl http://sharon82.tumblr.com artgyrl joined Society6 on November 10, 2011
More
I won a coloring contest when I was four. I've been drawing ever since.
In December 0f 2006, I earned a BFA in Graphic Design with a minor in Photography from the University of South Alabama.
I drink a lot of tea.
http://artgyrl.com http://facebook.com/artgyrl http://sharon82.tumblr.com
artgyrl joined Society6 on November 10, 2011.
Tech by artgyrl
28 results
Filter