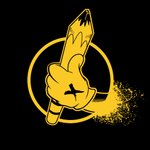 ARTIST53
Artist53 was born out of the need to separate my 3 focuses in art that range from graphic design, fine art, and illustration. I am a product of the 80's, cartoons, gaming, hip-hop, and southern culture. I live to draw and draw to live. The goal is to stimulate your visual senses and evoke a sense of nostalgia or deep thought. I enjoy having the power of being an ambassador of emotion and reactions. I use a juxtaposition of themes and inspiration in my work that range from movies, pop-culture, animal symbolism, quotations, or history. My technique stems from a traditional art background combined with commercial art skills. There is a heavy saturated influence from drip painter Jackson Pollack and bold lines from comic books, realism, and video games. ARTIST53 joined Society6 on March 12, 2013
More
Artist53 was born out of the need to separate my 3 focuses in art that range from graphic design, fine art, and illustration. I am a product of the 80's, cartoons, gaming, hip-hop, and southern culture. I live to draw and draw to live.
The goal is to stimulate your visual senses and evoke a sense of nostalgia or deep thought. I enjoy having the power of being an ambassador of emotion and reactions.
I use a juxtaposition of themes and inspiration in my work that range from movies, pop-culture, animal symbolism, quotations, or history. My technique stems from a traditional art background combined with commercial art skills. There is a heavy saturated influence from drip painter Jackson Pollack and bold lines from comic books, realism, and video games.
ARTIST53 joined Society6 on March 12, 2013.
Tshirts by ARTIST53
13 results
Filter