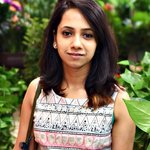 Sanjuktartster
Hello, all! I'm Sanjukta, A full-time freelance Designer, and an artist by hobby. I love illustrating in lines and watercolor. I love collecting things and sketching memories through my travels. I love creating new things all the time in any form. A die heart nature lover and a tea addict. Hope you enjoy my creations!! Have a good day. Sanjuktartster joined Society6 on October 31, 2016
More
Hello, all! I'm Sanjukta, A full-time freelance Designer, and an artist by hobby.
I love illustrating in lines and watercolor. I love collecting things and sketching memories through my travels. I love creating new things all the time in any form. A die heart nature lover and a tea addict.
Hope you enjoy my creations!!
Have a good day.
Sanjuktartster joined Society6 on October 31, 2016.