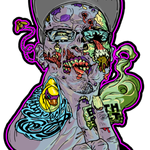 Artless Arts
About Artless Arts
Artless Arts is a radical design studio founded by freelance illustrator and graphic artist Drock Savage aka Deshawn Williams. He is responsible for bringing us some of the most intuitive graphic tee designs, and art of the new millennium.
Located in the Baltimore, MD area. Combining Deshawn's incredible talent and vision, Artless Arts has turned into a multi-faceted showcase of raw energy, Dedicated to elevating the status of the get up kids; the aire of the aristocrat, and the swagger of the classic G.
Legal Info
Copyright © 2010 DeShawn Williams. All Rights Reserved
Images from this site may not be reproduced without prior written permission.
Featured trademarks, brands, images and photographs are the intellectual property of their respective owners.
Artless Arts joined Society6 on June 24, 2012.