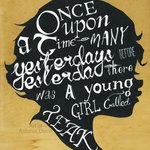 Art of Astonia
Illustrator, designer, deer lover and nature fanatic. Available for hire! DM or email astoniadixon@googlemail.com. You can purchase products of my artwork on Society6 (links on the left of my page). Follow me on Instagram for the latest work! See you there! Art of Astonia joined Society6 on August 30, 2015
More
Illustrator, designer, deer lover and nature fanatic. Available for hire! DM or email astoniadixon@googlemail.com.
You can purchase products of my artwork on Society6 (links on the left of my page).
Follow me on Instagram for the latest work! See you there!
Art of Astonia joined Society6 on August 30, 2015.
Art of Astonia's Store
43 results
Filter