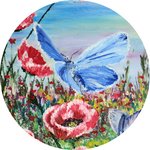 Art of Leki
Although an engineer and economist by profession, Leki has always embraced her creativity and pursued her love for art. Painting fulfills her, it helps her relax and express her emotions and identity, it enables her to find her place in this world. She started painting during a dark time in her life. Her home country was being bombarded. Living abroad, she feared for the people she loved and cherished. Painting kept her afloat and helped her find her strength. For many years she has created and exhibited her work around the world. The beauty of nature and colorful flowers are motifs throughout her paintings. Website: http://artofleki.weebly.com Society6: http://society6.com/artofleki Zazzle: http://www.zazzle.com/artofleki*/ DeviantART: http://leki-lily.deviantart.com Art of Leki joined Society6 on April 2, 2014
More
Although an engineer and economist by profession, Leki has always embraced her creativity and pursued her love for art. Painting fulfills her, it helps her relax and express her emotions and identity, it enables her to find her place in this world. She started painting during a dark time in her life. Her home country was being bombarded. Living abroad, she feared for the people she loved and cherished. Painting kept her afloat and helped her find her strength.
For many years she has created and exhibited her work around the world. The beauty of nature and colorful flowers are motifs throughout her paintings.
Website: http://artofleki.weebly.com Society6: http://society6.com/artofleki Zazzle: http://www.zazzle.com/artofleki*/ DeviantART: http://leki-lily.deviantart.com
Art of Leki joined Society6 on April 2, 2014.