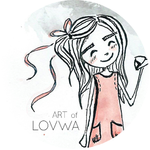 Art of Lovwa
Lovisa Wallberg is a self-taught artist from Sweden. She mostly work with ink and water color mixed with some digital art. She finds inspiration in modern pop culture, folklore, nature and all the small details around us. For more info please contact me at lovwa@live.se Instagram: @ArtofLovwa Portfolio: http://artoflovwa.tumblr.com Art of Lovwa joined Society6 on January 7, 2014
More
Lovisa Wallberg is a self-taught artist from Sweden. She mostly work with ink and water color mixed with some digital art. She finds inspiration in modern pop culture, folklore, nature and all the small details around us.
For more info please contact me at lovwa@live.se
Instagram: @ArtofLovwa Portfolio: http://artoflovwa.tumblr.com
Art of Lovwa joined Society6 on January 7, 2014.