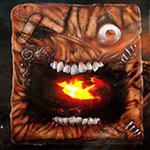 thedarkcloak
I am a Creative Ronin. Stylus Samurai. Multidisciplinary Art Ninja. Musician - I like making monsters and other neat things on and for Page, Stage, Speaker, Screen, Skin, or Sculpt! However, I cannot crotchet or knit. In fact I often mix the two up. Available and looking for work. thedarkcloak joined Society6 on December 6, 2013
More
I am a Creative Ronin. Stylus Samurai. Multidisciplinary Art Ninja. Musician - I like making monsters and other neat things on and for Page, Stage, Speaker, Screen, Skin, or Sculpt!
However, I cannot crotchet or knit. In fact I often mix the two up.
Available and looking for work.
thedarkcloak joined Society6 on December 6, 2013.