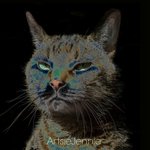 Jennie Renner
My name is Jennifer Renner, but I have been called Jennie all my life. I have been interested in being an artist since I was in the third grade. I've recently realized that not being an artist is not an option. I have ideas, I see things, and I want to create. I will put some of my creations here. Pinterest: http://www.pinterest.com/artsiejennie/ Twitter: https://twitter.com/ArtsieJennie Instagram: http://instagram.com/artsiejennie Tumblr: http://artsiejennie.tumblr.com/ Jennie Renner joined Society6 on July 28, 2013
More
My name is Jennifer Renner, but I have been called Jennie all my life. I have been interested in being an artist since I was in the third grade. I've recently realized that not being an artist is not an option. I have ideas, I see things, and I want to create. I will put some of my creations here.
Pinterest: http://www.pinterest.com/artsiejennie/ Twitter: https://twitter.com/ArtsieJennie Instagram: http://instagram.com/artsiejennie Tumblr: http://artsiejennie.tumblr.com/
Jennie Renner joined Society6 on July 28, 2013.