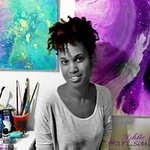 Art Soul Beauty
www.ArtSoulBeauty.com Ashlie is a self taught artist, and has been drawing since she could hold a pencil. She has a deep love for color, Earth's beauty and the elements. Ashlie has recently found a love for painting and using mixed media. She hopes to inspire, spread positivity and with the help of her brothers, carry on her fathers' artistic legacy. Art Soul Beauty joined Society6 on November 16, 2016
More
www.ArtSoulBeauty.com
Ashlie is a self taught artist, and has been drawing since she could hold a pencil. She has a deep love for color, Earth's beauty and the elements.
Ashlie has recently found a love for painting and using mixed media. She hopes to inspire, spread positivity and with the help of her brothers, carry on her fathers' artistic legacy.
Art Soul Beauty joined Society6 on November 16, 2016.
Wall-art by Art Soul Beauty
11 results
Filter