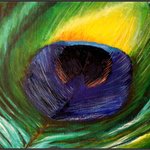 ARTTRAVERSIAMO
Arttraversiamo is a play on the Italian word 'Attraversiamo', which means "to cross over". Inspired by life, nature and the emotional experiences that can only come with being human, Arttraversiamo is a culmination of the meanderings, thoughts and expressions of one humble artist named Klaudia. This is a place where the mind, weighed down by the never-ending whirlwind of modern life, can rest. And the eye can act as a window to the soul, and awaken the heart. A place where the boundaries between reality and imagination become blurred, and one can truly cross over. www.arttraversiamo.com ARTTRAVERSIAMO joined Society6 on May 29, 2013
More
Arttraversiamo is a play on the Italian word 'Attraversiamo', which means "to cross over". Inspired by life, nature and the emotional experiences that can only come with being human, Arttraversiamo is a culmination of the meanderings, thoughts and expressions of one humble artist named Klaudia. This is a place where the mind, weighed down by the never-ending whirlwind of modern life, can rest. And the eye can act as a window to the soul, and awaken the heart. A place where the boundaries between reality and imagination become blurred, and one can truly cross over.
www.arttraversiamo.com
ARTTRAVERSIAMO joined Society6 on May 29, 2013.