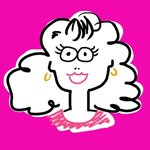 Art Vixen
Art is my passion! I enjoy creating cute and quirky patterns, painting in mixed media and drawing cartoons for a variety of themes such as animals, food, flowers, American patriotism, industrial designs and more. My creations are inspired my pets, nature, shapes, cultural motifs and anything funny! Thank you for visiting my Society6 store and I hope you enjoy my art! Art Vixen joined Society6 on May 17, 2016
More
Art is my passion! I enjoy creating cute and quirky patterns, painting in mixed media and drawing cartoons for a variety of themes such as animals, food, flowers, American patriotism, industrial designs and more. My creations are inspired my pets, nature, shapes, cultural motifs and anything funny!
Thank you for visiting my Society6 store and I hope you enjoy my art!
Art Vixen joined Society6 on May 17, 2016.