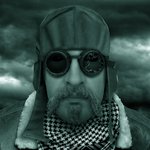 Arvydas Butautas
Graphic artist based in Bristol, UK. Creates surreal digital art (digital paintings and photomanipulations) with a bit of dark humor and grotesque. - In 2014 won the 3rd and the 4th place in 2014 AMERICAN ART AWARDS CATEGORY 47 - DIGITAL ART REPRESENTATIONAL. In 2015 participated in 19th JAPAN MEDIA ARTS FESTIVAL, Tokyo. Artwork 'Broken Glass' had been published in Photoshop Creative magazine Issue 132. Arvydas Butautas joined Society6 on February 2, 2014
More
Graphic artist based in Bristol, UK. Creates surreal digital art (digital paintings and photomanipulations) with a bit of dark humor and grotesque.
In 2014 won the 3rd and the 4th place in 2014 AMERICAN ART AWARDS CATEGORY 47 - DIGITAL ART REPRESENTATIONAL. In 2015 participated in 19th JAPAN MEDIA ARTS FESTIVAL, Tokyo. Artwork 'Broken Glass' had been published in Photoshop Creative magazine Issue 132.
Arvydas Butautas joined Society6 on February 2, 2014.