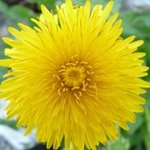 Everyday With Ma
I grew up in a beautiful, small, New England town.
My parents, my sister and I lived in an old house that had a yard with a swing set underneath an enormous weeping willow tree. In the spring, our lilac trees would intoxicate us with their blossoms and we would always have cut lilacs throughout the house. We grew a flower and vegetable garden in the summers and would slide down our backyard hill in the winters. We kept warm during the snowy winters with our two wood stoves. The firewood we used was from the cords of wood that my father would chop in the late summer and that we had brought in and stacked in the fall.
Our backyard was bordered by lots of woods and wild creatures, like opossum, deer, turkey, skunks, foxes and much more. For fun, we would ride bikes, play outside until dark and make up obstacle courses in our yard with the neighbors. We would bike to a nearby water hole, listen to the bullfrogs and practice skipping stones.
On the hottest of summer days, my mother would take my sister and I to the local pond for some swimming with our neighbors and friends. I loved this place, and I still make a point to visit it from time to time with my children. After all of these years, if I close my eyes, I can still hear the sounds of the water running over the pond's damn. It flows into the most beautiful brook I have ever seen - water dancing from stone to stone as children attempt to make their way from one side to the other. I can still smell the trees, the water and air....it fills my soul from the inside out.
Meditative art allows the artist to trust themselves as an artist and as a connected soul. When I create a mandala, I start from the very center. Often the center is as simple as a tiny dot or mark and I allow the art to flow from there. I create a design from that center outward, trusting that as long as I have started from the very center, the art will lead me to where the piece needs to go.
In many ways, my hometown is my center mark. It is where my soul feels free. The air, the smells, the sounds - they are all sweeter to me there. And no matter how far I may travel, or who I meet along the way, my hometown has remained that center mark - that starting point to trust as I make my way out.
May you know your center and trust in it. Thank you for allowing me to share this piece of my heart.
Read more