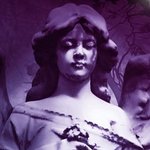 AshenSorrow Designs
AshenSorrow Designs was created by Sean and Ashlie Dawn Gillis-Nelson. We met each other in 1998 through a magazine called Metal Maniacs. At the time we lived in different states and after 8 years of being in a long distance relationship we tied the knot! We were married on Oct. 19th 2006 in Tucson, AZ at the Z mansion and have been happily married since. One of our fave things to do together is to create digital artwork and we want to share our art with everyone. We have been creating artwork together for the past 16 years! AshenSorrow Designs joined Society6 on October 30, 2013
More
AshenSorrow Designs was created by Sean and Ashlie Dawn Gillis-Nelson. We met each other in 1998 through a magazine called Metal Maniacs. At the time we lived in different states and after 8 years of being in a long distance relationship we tied the knot! We were married on Oct. 19th 2006 in Tucson, AZ at the Z mansion and have been happily married since.
One of our fave things to do together is to create digital artwork and we want to share our art with everyone. We have been creating artwork together for the past 16 years!
AshenSorrow Designs joined Society6 on October 30, 2013.