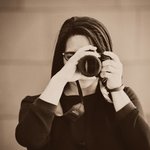 Ashleigh Hodges Photo
Hi There- My journey into the world of photography began over 30 years ago. I remember visiting San Diego Zoo when I was six and being mesmerized not by the beautiful animals but, by the shiny black camera my mom was using. How is it that she could capture our day in that little box and then have it printed for all to see?! By the time I was 14, I had my own "magic box" — a 35mm Olympus camera. It was also at this time that my family began to travel abroad. I found that travel and photography went hand in hand so neatly together. I was hooked! Many years later, the fever for travel and photography has not gone away. After watching my Mom's pottery career blossom and grow I was inspired to start selling on Society6. I had grown up traveling to various art fairs and galleries as a kid and realized I missed that outlet of creative expression. I love Society6 because it is the perfect avenue for artists around the world to be inspired, grow, evolve and nurture both the creative and entrepreneurial aspects of their art. Ashleigh Hodges Photo joined Society6 on January 22, 2014
More
Hi There- My journey into the world of photography began over 30 years ago. I remember visiting San Diego Zoo when I was six and being mesmerized not by the beautiful animals but, by the shiny black camera my mom was using. How is it that she could capture our day in that little box and then have it printed for all to see?! By the time I was 14, I had my own "magic box" — a 35mm Olympus camera. It was also at this time that my family began to travel abroad. I found that travel and photography went hand in hand so neatly together. I was hooked!
Many years later, the fever for travel and photography has not gone away. After watching my Mom's pottery career blossom and grow I was inspired to start selling on Society6. I had grown up traveling to various art fairs and galleries as a kid and realized I missed that outlet of creative expression. I love Society6 because it is the perfect avenue for artists around the world to be inspired, grow, evolve and nurture both the creative and entrepreneurial aspects of their art.
Ashleigh Hodges Photo joined Society6 on January 22, 2014.