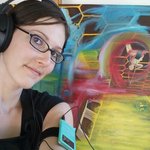 Ashley Bell
Hi, my name is Ashley Bell and I am an artist and illustrator in Marin County, CA. I first became passionate about art while in high school, when drawing on my bedrom walls developed into a mural based on fantasy. These days, I gain inspiration from daily life, music, day dreams, other artists, and my friends and family (many of whom I use as models). What most intrigues me, and what I try to capture in my work, is the blend between reality and imagination. The way our surroundings, memories, and subconscious mind all come together to form the truest representation of our life experience. You can also check out my website at www.ArtByAshleyBell.com or my facebook page www.facebook.com/AshleyBellArt. Please contact me with any questions or comments and thanks for looking at my shop! Ashley Bell joined Society6 on November 2, 2011
More
Hi, my name is Ashley Bell and I am an artist and illustrator in Marin County, CA. I first became passionate about art while in high school, when drawing on my bedrom walls developed into a mural based on fantasy. These days, I gain inspiration from daily life, music, day dreams, other artists, and my friends and family (many of whom I use as models). What most intrigues me, and what I try to capture in my work, is the blend between reality and imagination. The way our surroundings, memories, and subconscious mind all come together to form the truest representation of our life experience. You can also check out my website at www.ArtByAshleyBell.com or my facebook page www.facebook.com/AshleyBellArt.
Please contact me with any questions or comments and thanks for looking at my shop!
Ashley Bell joined Society6 on November 2, 2011.