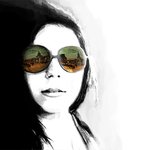 Ashley Anonymous
Ashley Anonymous is a designer that brings an eccentric aesthetic to the world. Drawing inspiration from Victorian, mid-century modern, pin-up and tattoo art, and the macabre, the products we offer will help you to surround yourself with unique character and eclectic style. A lifelong interest in eclectic collectibles, antiques, and nick-nacks lead to a natural talent in assemblage. Collecting so many unique attractions from different styles and influences and keeping them in the same area requires a talent for arrangement. Many of the art pieces offered here incorporate elements collected over a lifetime of antique hunting. Her knack for mixed-media, abstract arrangement, and assemlage art draws great inspiration from one of her biggest stylistic influences, and personal favourite book, Lewis Carroll's "Alice's Adventures in Wonderland." Along with the unique assemblage art pieces for sale, we offer many other inspired products designed by Ashley Anonymous. Some of them were created just so Ashley could have a few of her own... Not all of the products in our catalog were designed by Ashley Anonymous. We actively seek out other products that complement the site. There's not a product for sale here that she doesn't enjoy in her own home. "I kept filling up these design books. One day when I was cleaning my workspace to start on another idea, I realized I was surrounded by designs. I had to do something with them. I thought, why not start a store? I love to be surrounded by unique finds. I wanted to make a place where I could help others do the same." -Ashley Anonymous Ashley Anonymous joined Society6 on December 15, 2013
More
Ashley Anonymous is a designer that brings an eccentric aesthetic to the world. Drawing inspiration from Victorian, mid-century modern, pin-up and tattoo art, and the macabre, the products we offer will help you to surround yourself with unique character and eclectic style.
A lifelong interest in eclectic collectibles, antiques, and nick-nacks lead to a natural talent in assemblage. Collecting so many unique attractions from different styles and influences and keeping them in the same area requires a talent for arrangement. Many of the art pieces offered here incorporate elements collected over a lifetime of antique hunting.
Her knack for mixed-media, abstract arrangement, and assemlage art draws great inspiration from one of her biggest stylistic influences, and personal favourite book, Lewis Carroll's "Alice's Adventures in Wonderland."
Along with the unique assemblage art pieces for sale, we offer many other inspired products designed by Ashley Anonymous. Some of them were created just so Ashley could have a few of her own... Not all of the products in our catalog were designed by Ashley Anonymous. We actively seek out other products that complement the site. There's not a product for sale here that she doesn't enjoy in her own home.
"I kept filling up these design books. One day when I was cleaning my workspace to start on another idea, I realized I was surrounded by designs. I had to do something with them. I thought, why not start a store? I love to be surrounded by unique finds. I wanted to make a place where I could help others do the same."
-Ashley Anonymous
Ashley Anonymous joined Society6 on December 15, 2013.