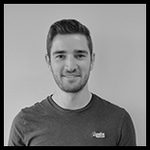 Ashley Cox Photography
Graphic designer, photographer & typographer.
Currently located in Plymouth, UK, originally from the Midlands but I've always been drawn to the sea.
I'm able to work across all areas of graphic design and branding: from printed works to digital media and interactive design – the design and development of websites, digital publications with designs that can involve the viewer. This area continues to expand especially as branding moves out into the built environment but I'm always keen to keep print based media alive, at all times experimenting how my designs can translate into the digital world.
My recent home has allowed me to exploit my other passion – photography – and use this medium for both work and as a hobby always searching for that illusive iconic moment to catch for perpetuity. Devon and Cornwall's seascapes and landscapes have been an inspiration over the last three years and I will continue to experiment whenever I can.
Available for freelance work & collaborations, please contact me to discuss any upcoming opportunities.
Read more
Ashley Cox Photography's Store
Filter