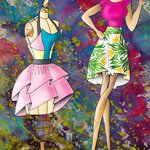 Ashley Love
Ashley Love is a freelance fashion designer/ illustrator and graduate of Savannah College of Art and Design. She has over 10 years of experience as a fine artist and over six years of experience as a fashion designer and fashion illustrator. She received her Bachelor of Fine Arts in 2007, and Master of Fine Arts in Fashion in 2012. Ashley's works have been displayed in fashion shows throughout the Southeast and New York City, SCAD Portfolios, Triple Magazine, and will be featured in the November 2013 issue of Devoe Magazine. Her goal is to create her own fashion label, consisting of athletic, plus-size, and possibly maternity apparel. If you would like to contact Ashley Love, you may do so by E-mail-love.ashleyd@yahoo.com Facebook- www.facebook.com/AshleyLoveIllustrations Twitter- @AshleyLove83 Ashley Love joined Society6 on January 27, 2013
More
Ashley Love is a freelance fashion designer/ illustrator and graduate of Savannah College of Art and Design. She has over 10 years of experience as a fine artist and over six years of experience as a fashion designer and fashion illustrator. She received her Bachelor of Fine Arts in 2007, and Master of Fine Arts in Fashion in 2012.
Ashley's works have been displayed in fashion shows throughout the Southeast and New York City, SCAD Portfolios, Triple Magazine, and will be featured in the November 2013 issue of Devoe Magazine. Her goal is to create her own fashion label, consisting of athletic, plus-size, and possibly maternity apparel.
If you would like to contact Ashley Love, you may do so by E-mail-love.ashleyd@yahoo.com Facebook- www.facebook.com/AshleyLoveIllustrations Twitter- @AshleyLove83
Ashley Love joined Society6 on January 27, 2013.