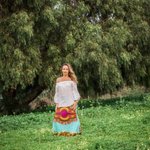 Wings of a Flower Print Shop
For nearly three years, the intentional, grateful and passionate photographer behind the lens, Ashley Strong Smith joyfully lived, taught and ultimately fell in love with cultures and communities around the world!
Living in Tanzania, South Africa and Costa Rica alongside visiting Kenya, Nicaragua and small islands in-between!
With this, she welcomes you to Wings of a Flower Print Shop, an exclusive collection of prints from Central America, South Africa and Tanzania!
Ashley currently lives in the mountains of Southern California as a photographer, educator and mama. Documenting couples, families and lifestyle portraits in a vibrant, blissful and intimate kind of way. She also spreads her knowledge, commitment and love for being a photographer and entrepreneur, educating those inspired by her path!
Follow along on instagram at @ashleystrongsmith_ and @wingsofaflower.
Read more
Wings of a Flower Print Shop's Store