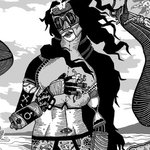 Chris Varnum
Born in January of '82 with an amniotic fluid covered micron pen in one hand and a Topo Chico in the other. Currently residing in Austin, TX. Check out my webstore for limited screen printed prints, tees and tanks at: http://www.asleepstanding.com Follow me on Instagram for the most up to date art @asleepstanding I also have some random art at http://www.behance.net/asleepstanding https://www.facebook.com/artbychrisvarnum Chris Varnum joined Society6 on November 29, 2011
More
Born in January of '82 with an amniotic fluid covered micron pen in one hand and a Topo Chico in the other. Currently residing in Austin, TX.
Check out my webstore for limited screen printed prints, tees and tanks at: http://www.asleepstanding.com
Follow me on Instagram for the most up to date art @asleepstanding
I also have some random art at http://www.behance.net/asleepstanding
https://www.facebook.com/artbychrisvarnum
Chris Varnum joined Society6 on November 29, 2011.
Canvas by Chris Varnum
85 results
Filter