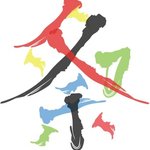 A.S.O
Hi, I'm A.S.O Please enjoy a look at my work. My logo is to represent the Olympic Games. In Japan, the Olympic Games has been referred to as the festival of peace. My logo is the original kanji made a combination of the "festival" and "peace" in Japanese Kanji. I want to liven up the Olympic Games. Thank you for visiting. Moreover, it comes. A.S.O joined Society6 on June 14, 2016
More
Hi, I'm A.S.O
Please enjoy a look at my work.
My logo is to represent the Olympic Games. In Japan, the Olympic Games has been referred to as the festival of peace. My logo is the original kanji made a combination of the "festival" and "peace" in Japanese Kanji. I want to liven up the Olympic Games.
Thank you for visiting. Moreover, it comes.
A.S.O joined Society6 on June 14, 2016.