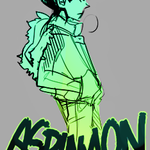 ( asphy )
Hello and welcome to my societysix page! Here you will find prints of both original and fanwork, AU!Reverse merchandise, and other great stuff that you can purchase. Most of these prints and other merchandise are for grabs at any of my booths at conventions, but if you miss me there, this is a good place to grab whatever you'd like! I hope you enjoy your stay and if you have any questions or requests for prints, don't hesitate to contact me! asphyxion.tumblr.com ( asphy ) joined Society6 on November 6, 2014
More
Hello and welcome to my societysix page! Here you will find prints of both original and fanwork, AU!Reverse merchandise, and other great stuff that you can purchase. Most of these prints and other merchandise are for grabs at any of my booths at conventions, but if you miss me there, this is a good place to grab whatever you'd like! I hope you enjoy your stay and if you have any questions or requests for prints, don't hesitate to contact me!
asphyxion.tumblr.com
( asphy ) joined Society6 on November 6, 2014.
( asphy )'s Store
23 results
Filter