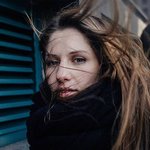 Asya Lisina
I'm an illustrator, based in the little Russian village in wooden house with two greyhounds, a cat and a spiny mouse. I like watercolor, northern landscapes, animals and silly jokes. Follow me (instagram.com/asya_lisina/), and you will get fresh and juicy images of my Russian life, watercolor pictures, animals and silly jokes. My site: www.aalisina.com Our little studio: www.deerfoxbureau.com Asya Lisina joined Society6 on January 29, 2015
More
I'm an illustrator, based in the little Russian village in wooden house with two greyhounds, a cat and a spiny mouse. I like watercolor, northern landscapes, animals and silly jokes.
Follow me (instagram.com/asya_lisina/), and you will get fresh and juicy images of my Russian life, watercolor pictures, animals and silly jokes.
My site: www.aalisina.com Our little studio: www.deerfoxbureau.com
Asya Lisina joined Society6 on January 29, 2015.