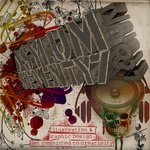 ASYLUMseventy7
ASYLUMseventy7 is artist, illustrator, designer, photographer, guitarist, music freak, kung fu master and 6'5 midget-gem fuelled, bizarre concoction of cheerful pessimism, Mark Leary.
With a sublimely distinctive style, Mark explores every project with enthusiasm and maturity. He hates shallow work! Influenced by the weird and wonderful - be it music, art, fashion or people - he enjoys taking projects left-field and loves nothing more than working with people who have the same passion for exploring the new and experimenting with the norm, to create something that shows the best of his abilities and their desires.
A skilled artist with a BA(hons) in Illustration, Mark had been working with clothing, print and merchandise companies for a number of years when, in 2005, his work was showcased at the New Designers exhibition in London - an event which catapulted him into the spotlight and led to the formation of ASYLUMseventy7 in 2006 as a base for all his creative work.
Experienced in working with bands, DJs, artists, record companies, recording studios, tour/event/promotion companies, shops, music colleges and youth charities, Mark's unique brand of creative insanity is spreading across the industries as if he had been bitten by a rage infected monkey.
Get committed before its too late.
Read more
ASYLUMseventy7's Store
Filter