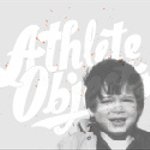 Athlete Objects
Athlete Objects quite simply is; athletes drawn as objects, based on their name or nickname, my childhood memories and any other interesting Internet tidbits. From famous to infamous, amazing or obscure, these character illustrations are part fact and part poking fun. BACKGROUND: As a little boy sports and trading cards were my life. Don't laugh, if you grew up in the 90's you probably collected them too (and still have a stack up in the attic). Back then, if I wasn't out in the driveway getting dunked on by my older brother, I was probably at a friends house trading for any-and-every Tim Hardaway card. I was obsessed! No joke, I had 8 of the same card, it was bad. Every birthday I got packs for presents. Every morning before school, I would trade cards in the lunch room. Every year, I would save up to go to the trading card convention at Cook Nuclear Plant and spend every last penny I had. CURRENTLY: I have a big boy job, so unfortunately I can't just nerd out over trading cards and watch vintage videos all day. Athlete Objects is my way of harnessing my obsession with sports and trading cards as a kid and infusing it into my illustration work. Though this started as personal project other people seemed to get a kick out of them, so I have decided give them a go. Basketball is my favorite sport, so that has made up the bulk of the first ills but football and baseball will be sprinkled. http://athleteobjects.com/ Athlete Objects joined Society6 on December 8, 2016
More
Athlete Objects quite simply is; athletes drawn as objects, based on their name or nickname, my childhood memories and any other interesting Internet tidbits. From famous to infamous, amazing or obscure, these character illustrations are part fact and part poking fun.
BACKGROUND: As a little boy sports and trading cards were my life. Don't laugh, if you grew up in the 90's you probably collected them too (and still have a stack up in the attic). Back then, if I wasn't out in the driveway getting dunked on by my older brother, I was probably at a friends house trading for any-and-every Tim Hardaway card. I was obsessed! No joke, I had 8 of the same card, it was bad. Every birthday I got packs for presents. Every morning before school, I would trade cards in the lunch room. Every year, I would save up to go to the trading card convention at Cook Nuclear Plant and spend every last penny I had.
CURRENTLY: I have a big boy job, so unfortunately I can't just nerd out over trading cards and watch vintage videos all day. Athlete Objects is my way of harnessing my obsession with sports and trading cards as a kid and infusing it into my illustration work. Though this started as personal project other people seemed to get a kick out of them, so I have decided give them a go. Basketball is my favorite sport, so that has made up the bulk of the first ills but football and baseball will be sprinkled.
http://athleteobjects.com/
Athlete Objects joined Society6 on December 8, 2016.
Athlete Objects's Store
13 results
Filter