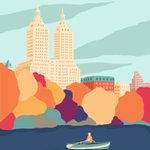 Around The World Illustrations
Around The World is a creative project. We show you the world without the need of a flight ticket.
Follow our journey on IG @aroundtheworld_illustrations
To commission a piece please drop a line here: valefrus@hotmail.com
The mind (and the hand) behind the project is @Valeria_frustaci www.valeriafrustaci.com to know more.
Read more
Around The World Illustrations's Store