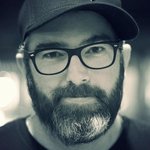 audiovisualboy
Creativity has been the driving force in my life. It began with a passion for art and music in my youth, and continued with graphic and web design as I grew older. After studying music in university and designing on the side, a path soon became clear to me, and my transition into making a career of graphic design, web design, and illustration began. In addition to my graphic and web design work, I am the co-creator and illustrator of the webcomic Last Words (AndThenTheyDied.com), and work as an illustrator on a variety of other independent projects which can be found on my website christopherhemsworth.com. audiovisualboy joined Society6 on December 4, 2013
More
Creativity has been the driving force in my life. It began with a passion for art and music in my youth, and continued with graphic and web design as I grew older. After studying music in university and designing on the side, a path soon became clear to me, and my transition into making a career of graphic design, web design, and illustration began.
In addition to my graphic and web design work, I am the co-creator and illustrator of the webcomic Last Words (AndThenTheyDied.com), and work as an illustrator on a variety of other independent projects which can be found on my website christopherhemsworth.com.
audiovisualboy joined Society6 on December 4, 2013.
audiovisualboy's Store
132 results
Filter