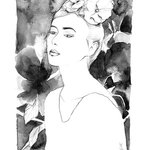 Audrey Gachet
Audrey is a multidisciplinary french illustrator and designer based in Sydney. Born into a creative family, Audrey has been drawing and creating from a very young age and after completing a Bachelor of Visual Communication and working in-house for various design companies in Bordeaux, London and Sydney, she is now freelancing full time. Her main illustration style involves watercolour and pencil work and is characterised by a delicate and free gesture. Her work draws inspiration from botanical art, travels and her connection to nature. Available for freelance projects, commissions & collaborations. Please feel free to email me! Follow me on Instagram https://www.instagram.com/audreygachet/ Contact: hello@audreygachet.com Website: http://www.audreygachet.com/ Audrey Gachet joined Society6 on September 13, 2013
More
Audrey is a multidisciplinary french illustrator and designer based in Sydney. Born into a creative family, Audrey has been drawing and creating from a very young age and after completing a Bachelor of Visual Communication and working in-house for various design companies in Bordeaux, London and Sydney, she is now freelancing full time.
Her main illustration style involves watercolour and pencil work and is characterised by a delicate and free gesture. Her work draws inspiration from botanical art, travels and her connection to nature.
Available for freelance projects, commissions & collaborations. Please feel free to email me!
Follow me on Instagram https://www.instagram.com/audreygachet/
Contact: hello@audreygachet.com
Website: http://www.audreygachet.com/
Audrey Gachet joined Society6 on September 13, 2013.
Audrey Gachet's Store
40 results
Filter