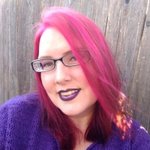 Avery Ames
Avery Ames is author of the gothic faerie tale "Cambiare". A lifelong lover of lush fantasy, she was introduced to Ridley Scott's film Legend as a child, and it was all downhill from there. She writes novels that toe the line between glittery and dark, for lovers of fairy tales and everything gothic.
When not writing, she can be found playing video games, creating replica costumes, making candles, or concocting new tea blends.
To find out more about Avery, follow her on Twitter at @AveryAmes.
Read more